PoLL
Would you like to see Horizon become a transmedia (ie. comics, novels, etc.) franchise?
Recent blog posts
whereas the Control Tower makes them aggressive, this machine has the opposite effect, calming.

intersting title, and the basic summary of this machine when you check the Machine Notebook. it is immune to all damage, though it features a rather weird way of functioning.

now, I'm sure everyone has an …

Read more >

"looks like a pigeon, but more like a Glinthawk. I wonder what's inside it's chest?"

that's a bit of a teaser that beautifully summarizes the Carrier. a Medium Acquisition Class Recycler Machine. specifically, this machine, when out in the Wilds, will not engage in combat. instead, it will summon al…

Read more >

To those of you who don't know, Fandom is in the process of...for lack of a better word, merging with Gamepedia, an alternate wiki hosting service provided by Curse (the guys who run Twitch), which Fandom has recently acquired.

For the last few months, I've been working on Codex Gamicus, which aims t…

Read more >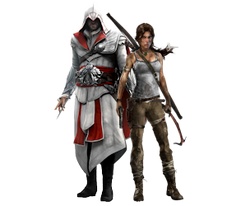 Community content is available under
CC-BY-SA
unless otherwise noted.