PoLL
Would you like to see Horizon become a transmedia (ie. comics, novels, etc.) franchise?
Recent blog posts
this may come as a shock to you (no pun intended) but I'm going offline on Wensday.

as once said so potently, all together all alone.

but, that's my problem, not yours.

so I'll give you some good news.




is dead. that simple. I am no longer basing anything off of it, and besides the point, it was made th…

Read more >

Backstory:

Years before the start of Zero Dawn, Ted Faro had an illegitimate son named Edward Velaquez while in Spain. This son grew up to be very bright, and worked unknowingly as the European head of his fathers corporation. When Zero Dawn was created, he was instructed to create a backup secret p…

Read more >

First up, Flora:

Jitari plants vary from each region. In the cold north you will find Frostliquor plants, good for making Frost potions. In the south it can be quite sandy when you aren't close to the coastline, so it is not be suited to plants. Only various flower and cactus species have adapted to…

Read more >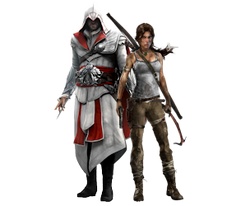 Community content is available under
CC-BY-SA
unless otherwise noted.